This is a collection of photographs and videos from things we have been working on, and shop moments.

Some friends and I were rebuilding an '88 Bronco II 2.9L V6 and my Jam came on. Thank you Lord for this dance style, this is four years after the lightning strike and I am able to move fluidly through the nerve damage and especially pain. I was struck in this very shop. My movement could not properly be rehabilitated until I had found Animation Dubstep online. I am so blessed to have such a strong community of dancers to learn from through @itsMRich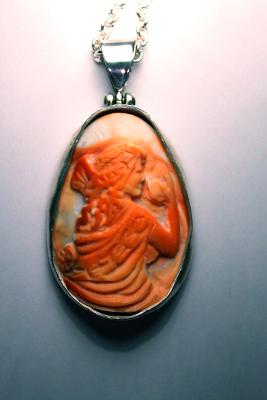 Kenyan Shellset in Sterling Silver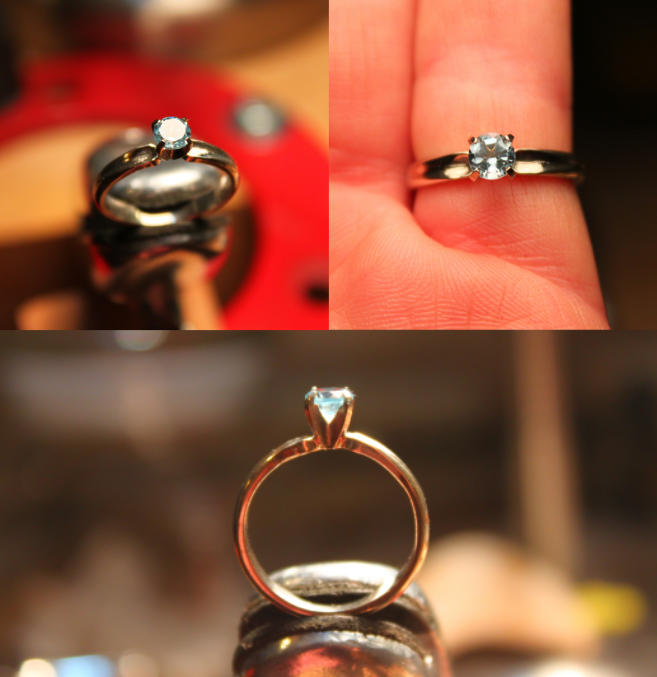 Sky Blue Topaz set in 14Kt. White Gold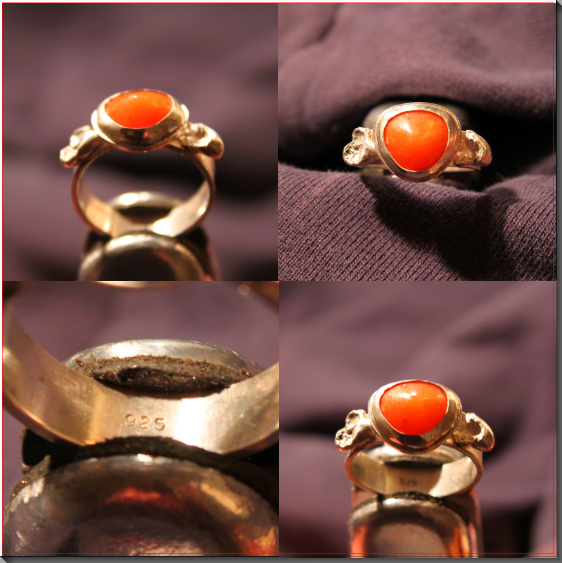 Luray Caverns Ring
Orange Aventurine set in Sterling Silver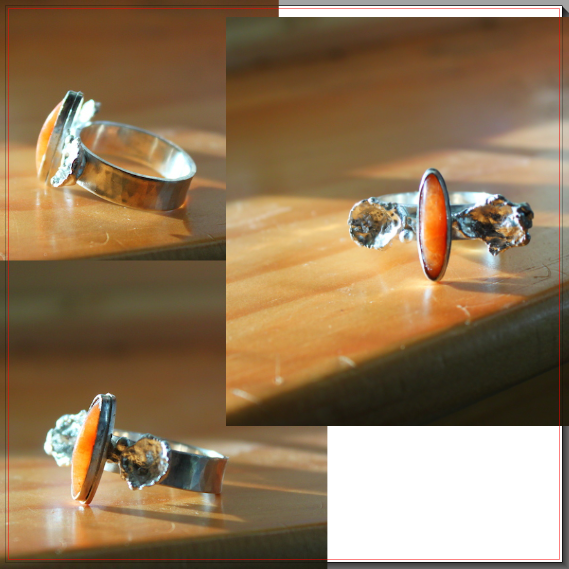 Luray Cat Eye Ring
Orange Aventurine set in Sterling Silver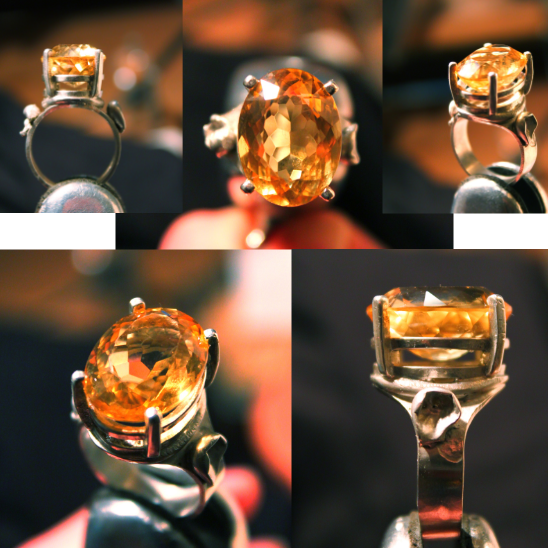 20Ct. Madagascar Citrine set in Sterling Silver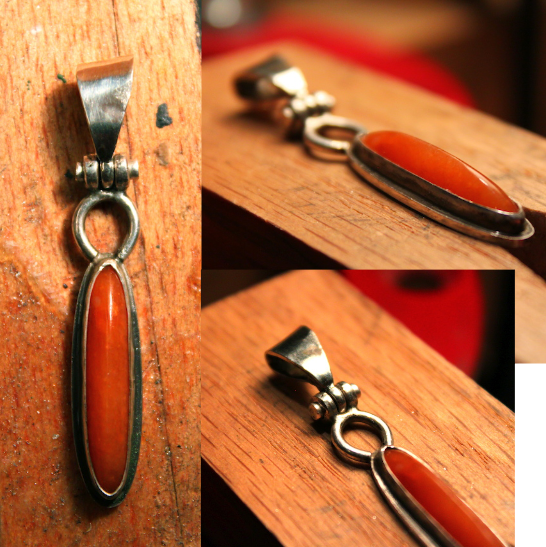 Orange Aventurine set in Sterling Silver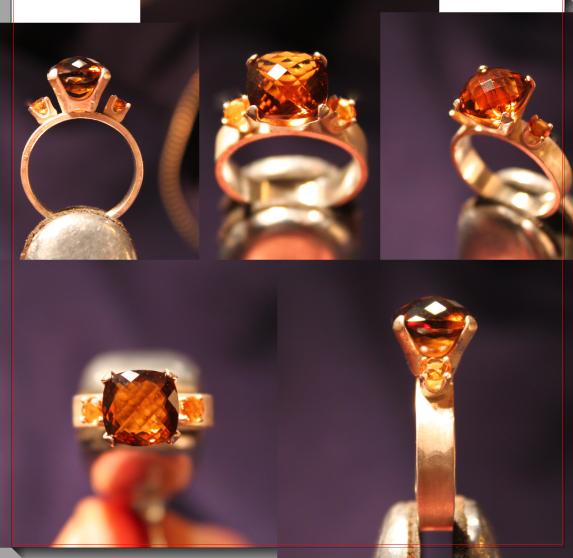 Luray Cushion Citrine Ring
4ct. Madeira Citrine, escorted by 2 (0.4ct.) Brazillian Citrine in Sterling Silver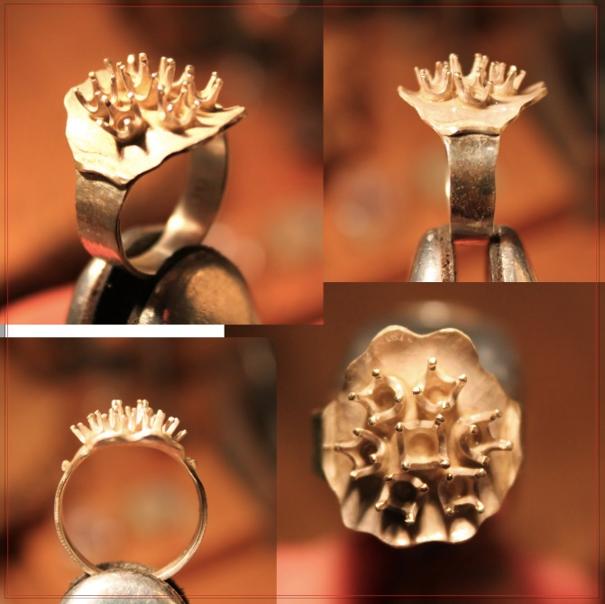 'Lotus Leaf Ring' in Sterling Silver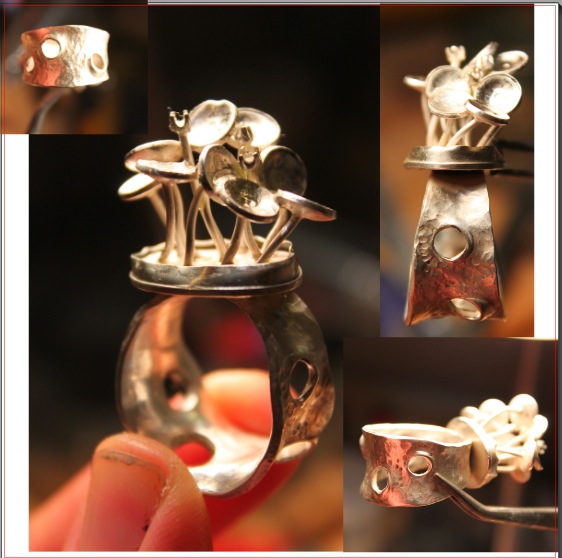 'Lotus Garden Ring' Top in Sterling Silver, ring body in Fine Silver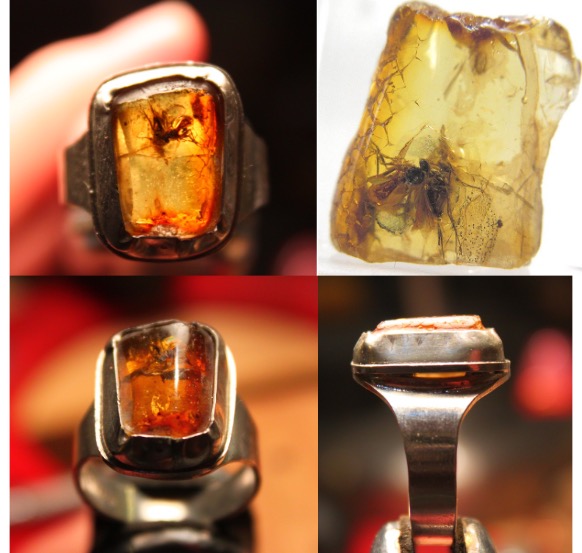 Amber Love Fossil Ring
Baltic Amber dated around 40-50million years old with two extinct flies snuggling. The piece is set in Sterling Silver and Copper.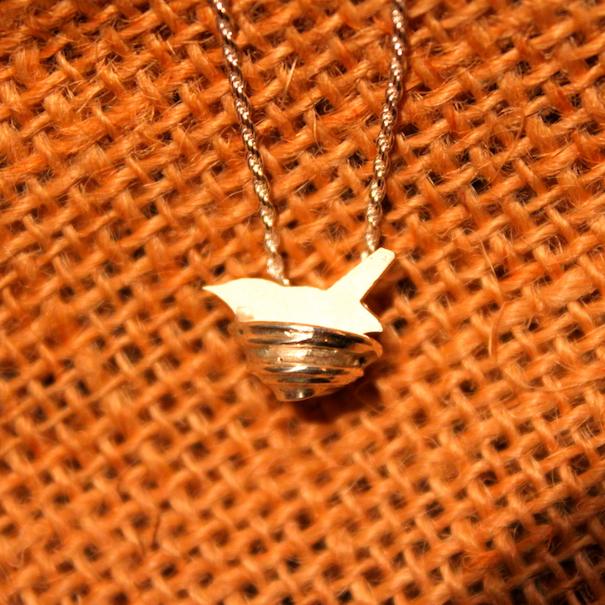 Carolina Wren Nest Pendant
Sterling Silver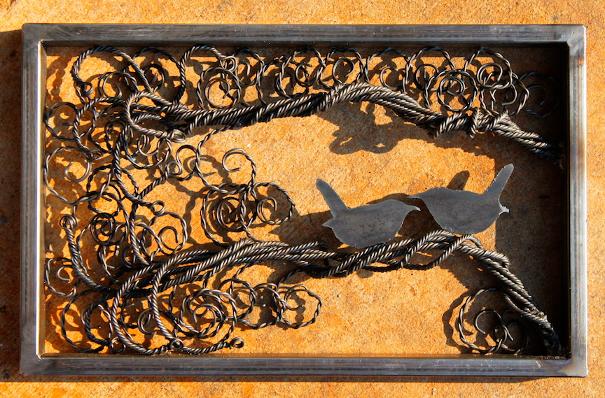 'Carolina Wren Hideout'
Steel
14.625"x 9.125"x 2"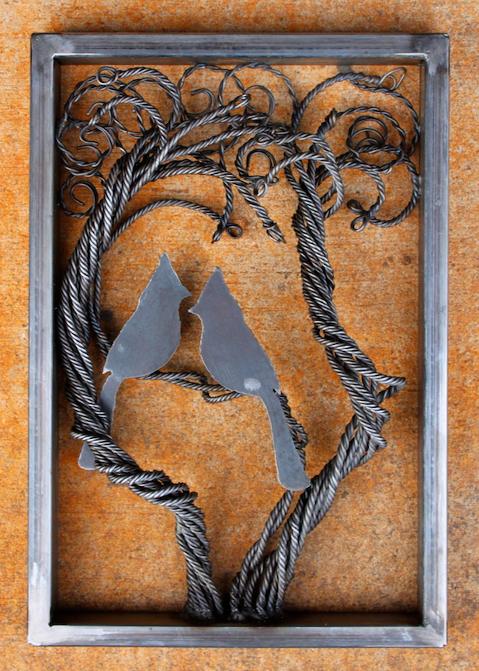 'Cardinal Companions'
Steel
8.5"x 12.5"x 1"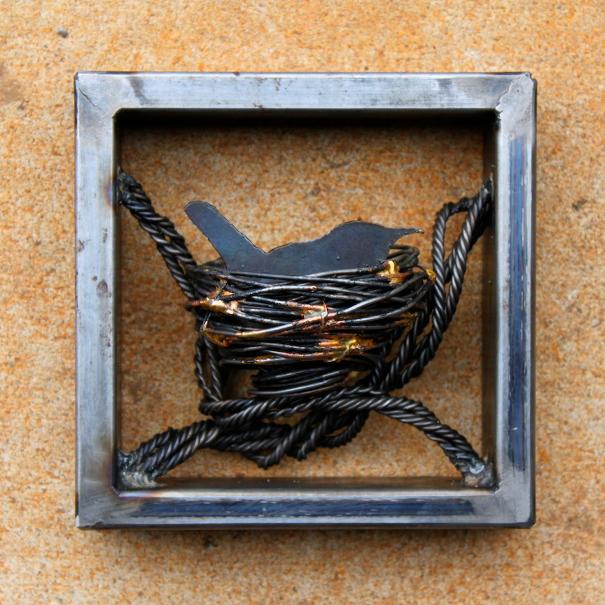 'Carolina Wren Nest'
Steel
5.5"x 5.5"x 3"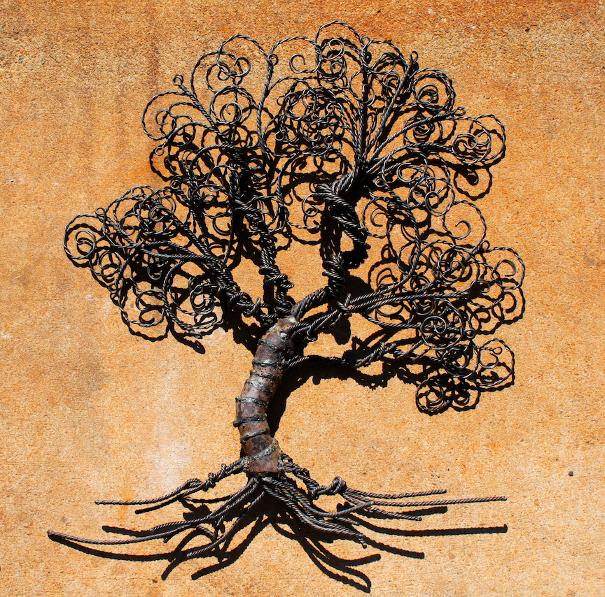 'Stargazer Tree'
Steel
20.5 "x 18"x 2.5"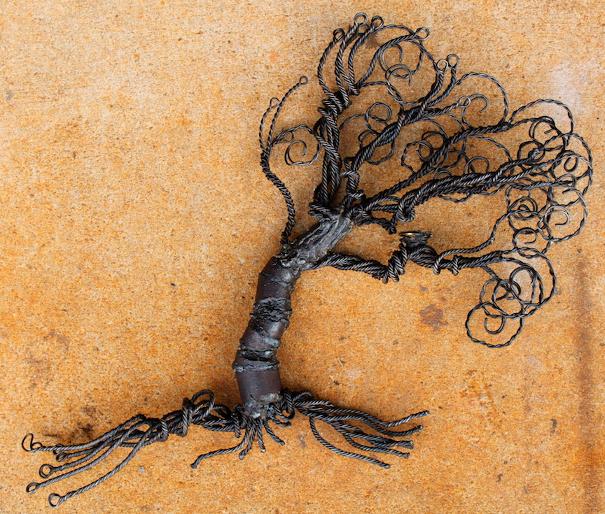 'Sheltered Nest'
Steel, Silver
19 "x 15"x 2.5"
'Mighty Hunter'
Steel
13 "x 8"x 1.5"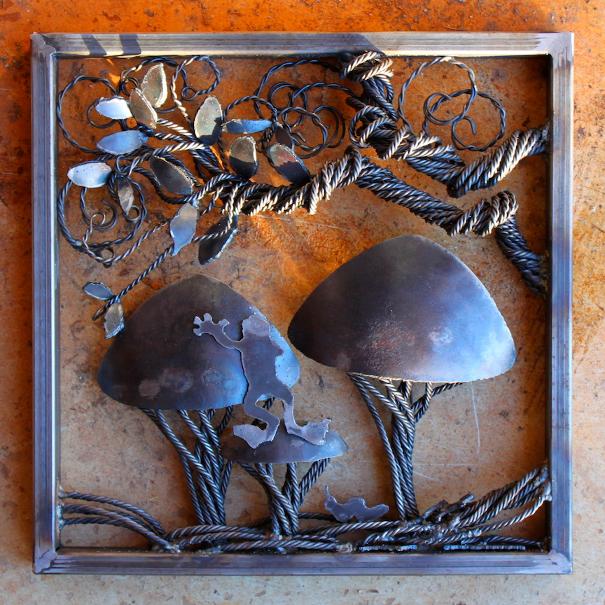 'Forest Floor'
Steel
12 "x 12"x 1.75"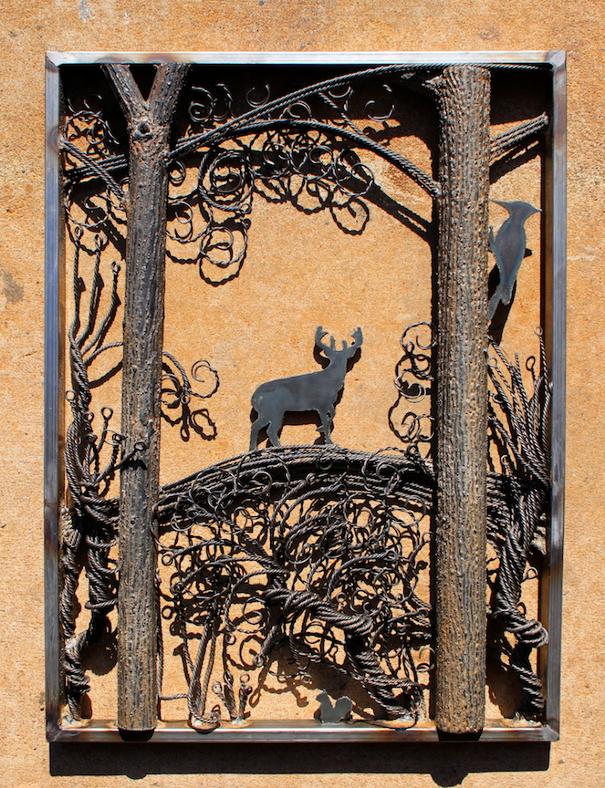 'Natural Kingdom'
Steel
18"x 24"x 2.5"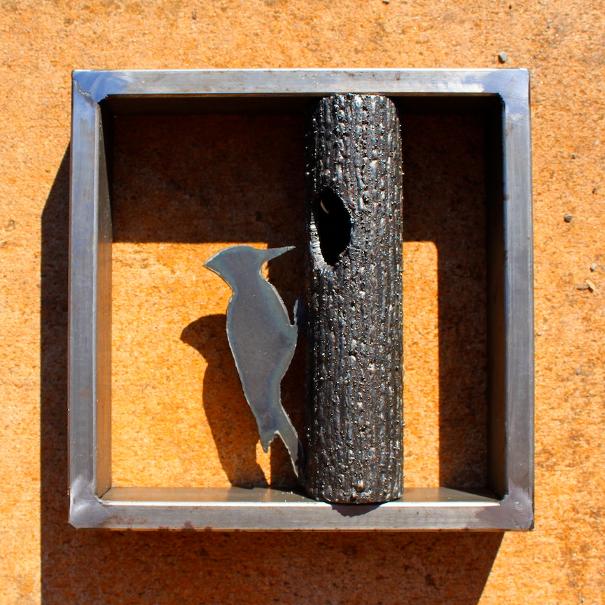 'Pileated Woodpecker Nest'
Steel
8"x 8"x 1.75"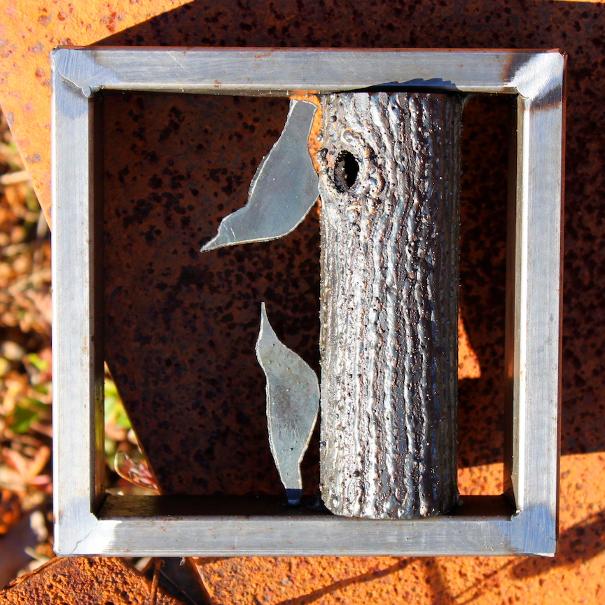 'Nuthatch Nest'
Steel
6.125"x 6.125"x 2"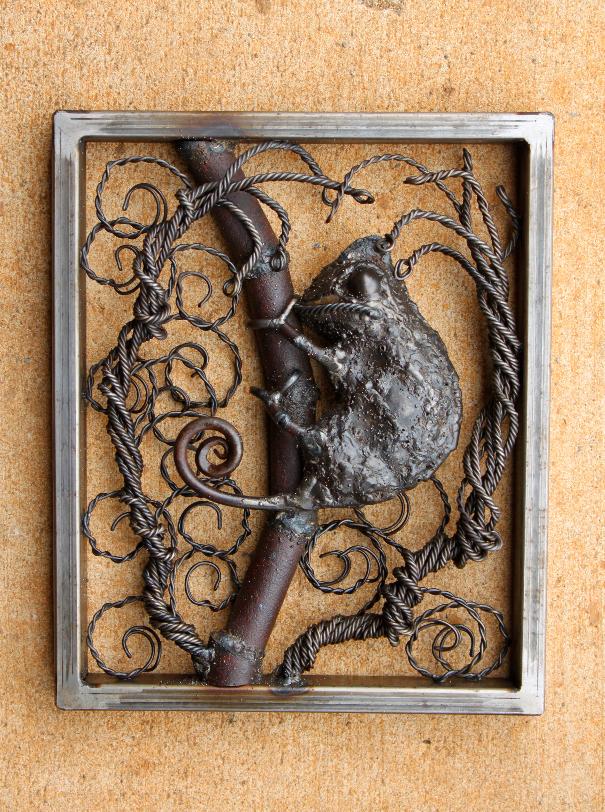 'Blending In'
Steel
9"x 11"x 2"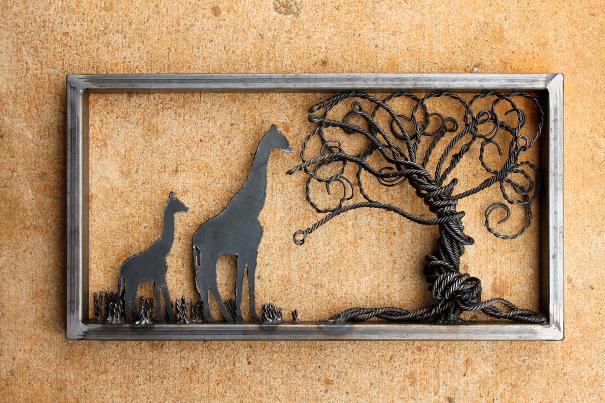 'Serengeti Splendor'
Steel
8"x 15"x 2"
'Coffee' Standard Font
Steel
4.25"x 13.5"x 1"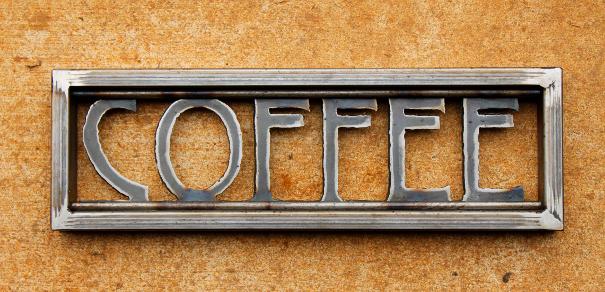 'Coffee' A. Mucha Font
Steel
4.25"x 13.25"x 1"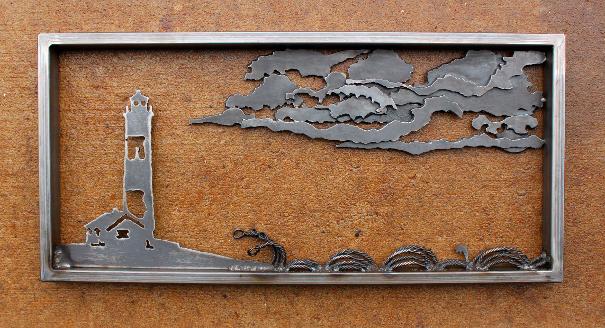 'Light In the Storm'
Steel
9.5"x 20"x 1"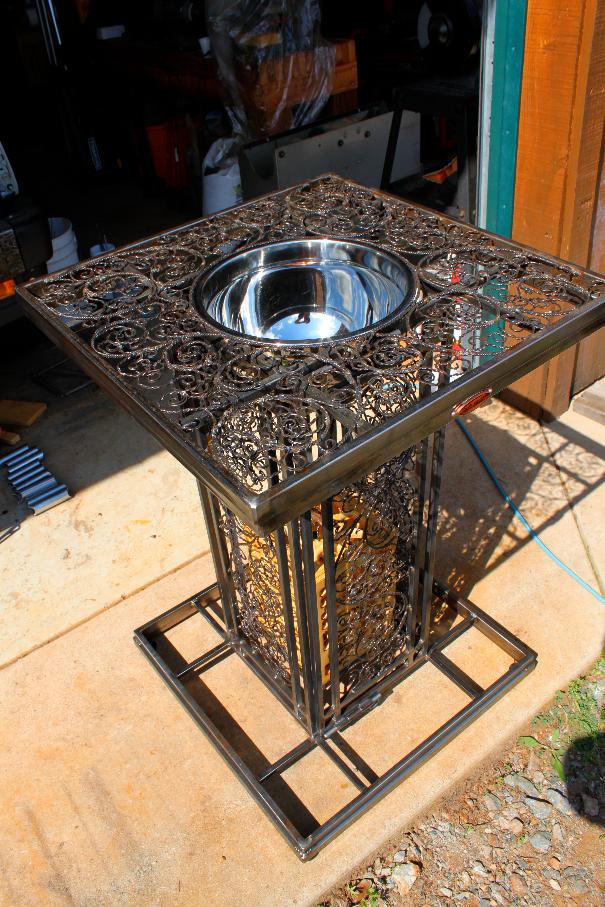 Adam Krehbiel
'Sugar Scrub Sampling Table'
Steel Tube, Stainless Steel, 16ga. Steel Wire, Copper, Bronze, Birch
This is a commissioned project where the client required a table that could be used for customers sampling Sugar Scrub. Upon the top is a stainless steel bowl with a drain assembly that drains into a removable bottle for easy waste water disposal. The table comes apart in three sections for easy transport, and has a shutoff valve for easy waste water removal. The piece took 9 months to construct from 2014 into 2015.
1st Place Winner of the 2015 Weldfabulous FabCon Contest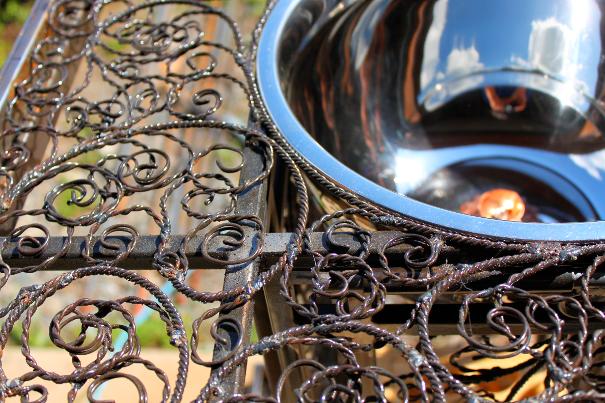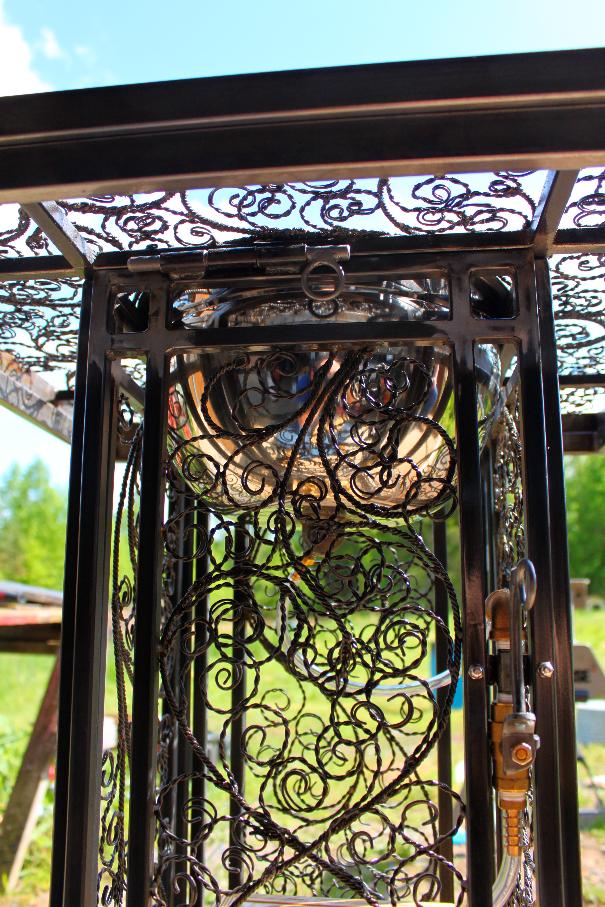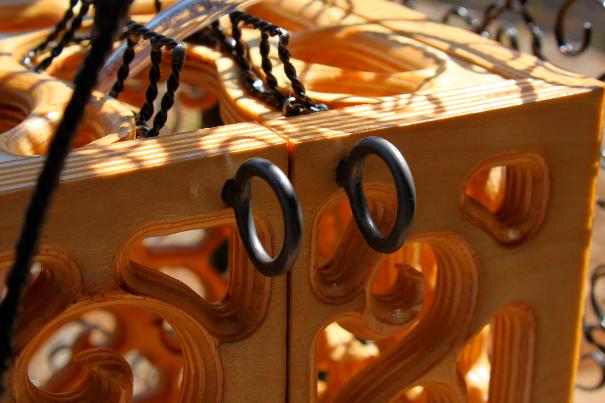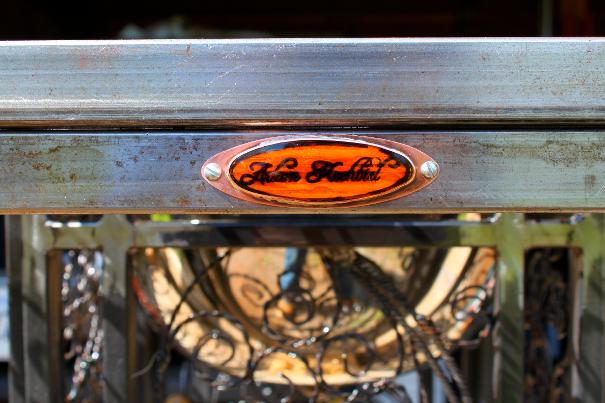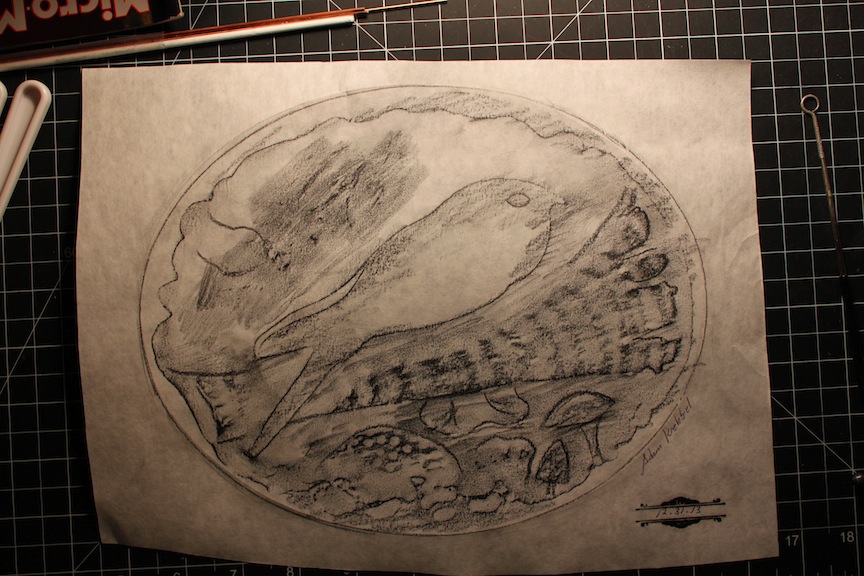 Adam Krehbiel
'Whip Poor Will Project'
2014
8.5"x 11"
Basswood
We start this particular project with a rough outline drawing. Usually we do better renderings for relief carvings such as this. Though in this case we are working in Basswood and it shall not be reproduced, only one piece shall be created. The design is left rather open and whatever meanderings we arrive to in the happenings of the piece, are most welcome. This is the first piece of wood in many years cut from my property that has not been struck by lightning.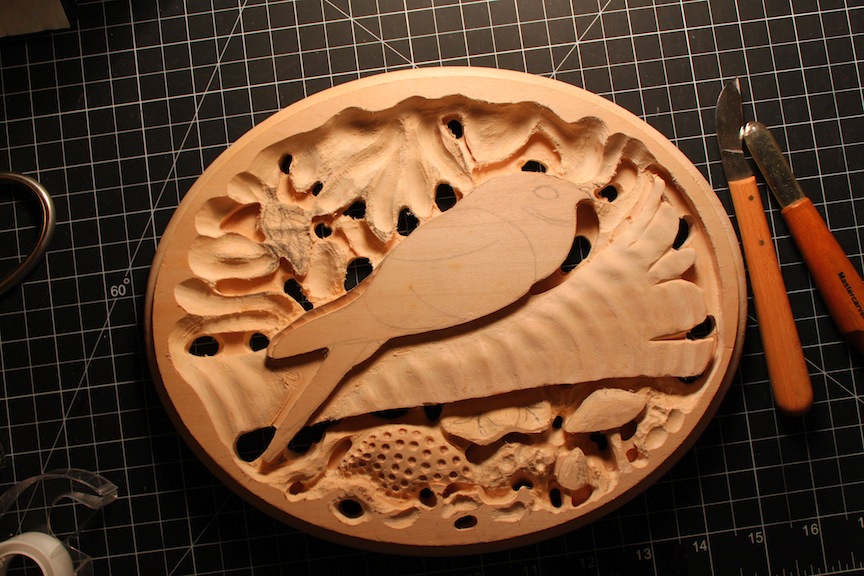 In the rough-out of the piece, lines are held very strongly as they can be warped later if needed. Generalized undercutting is attacked first, with more refined shapes worked later.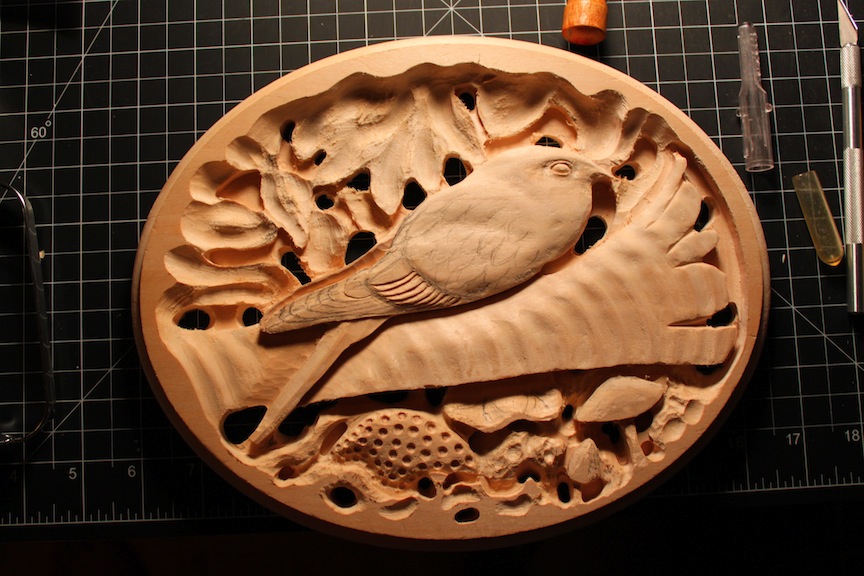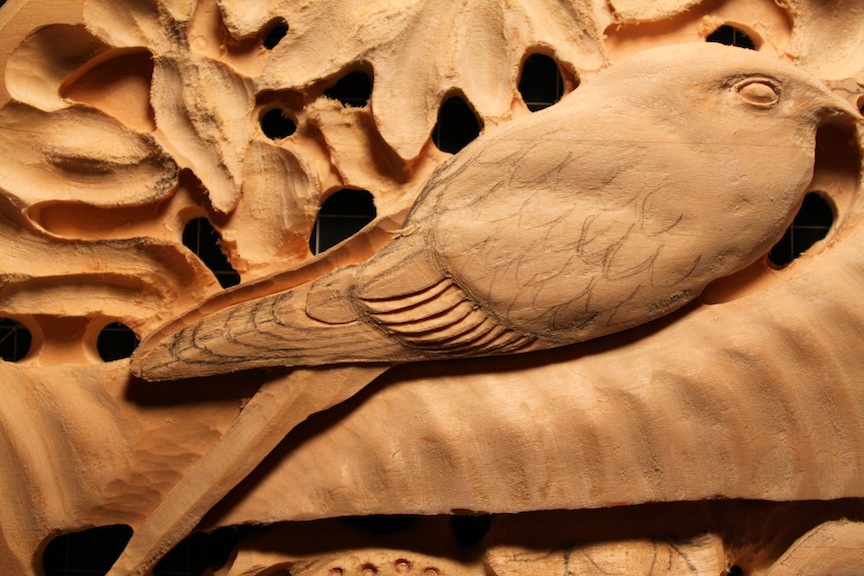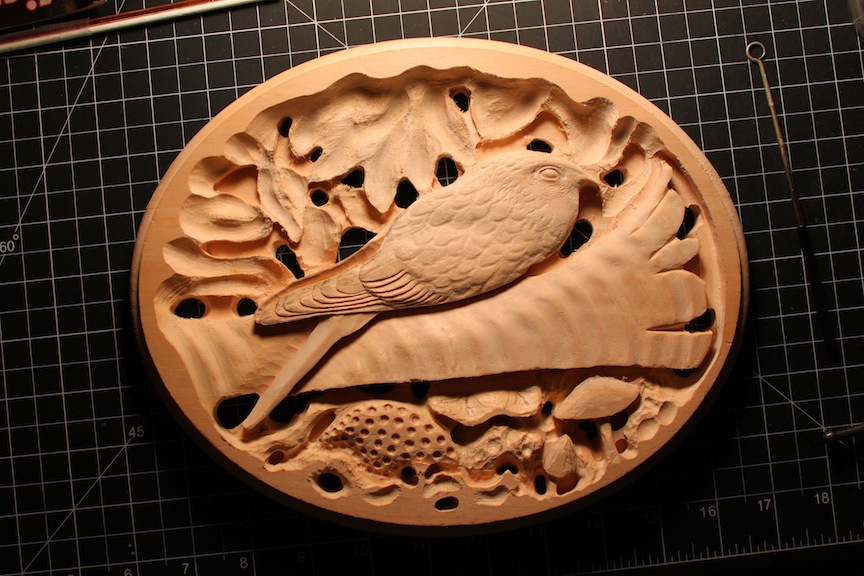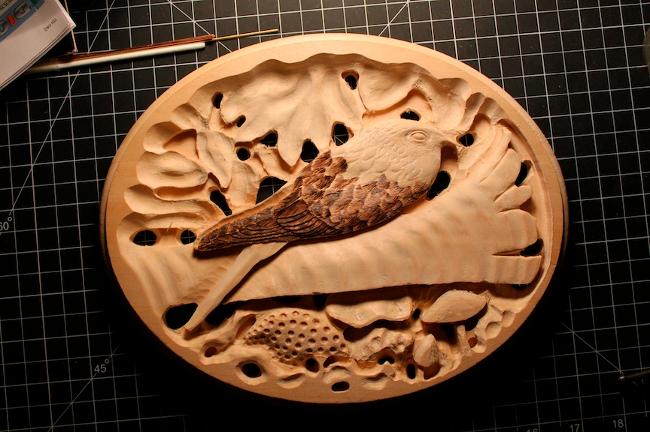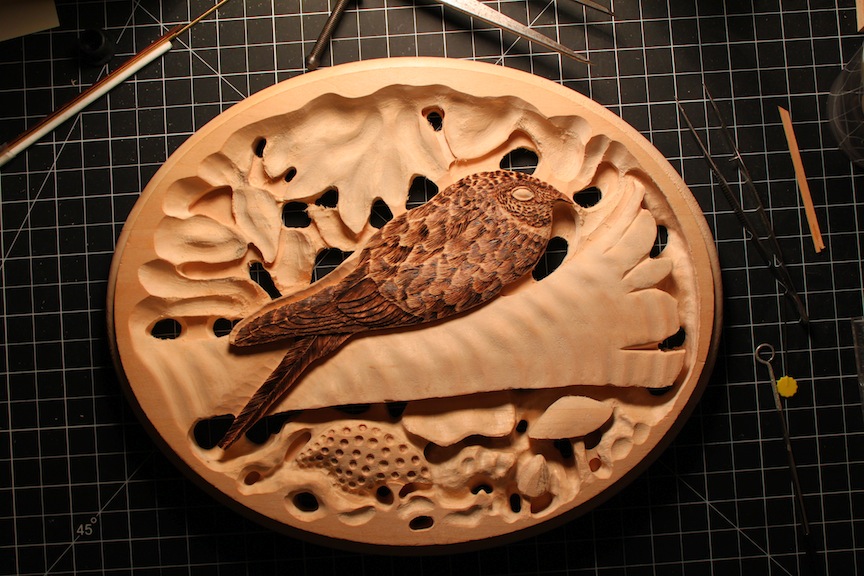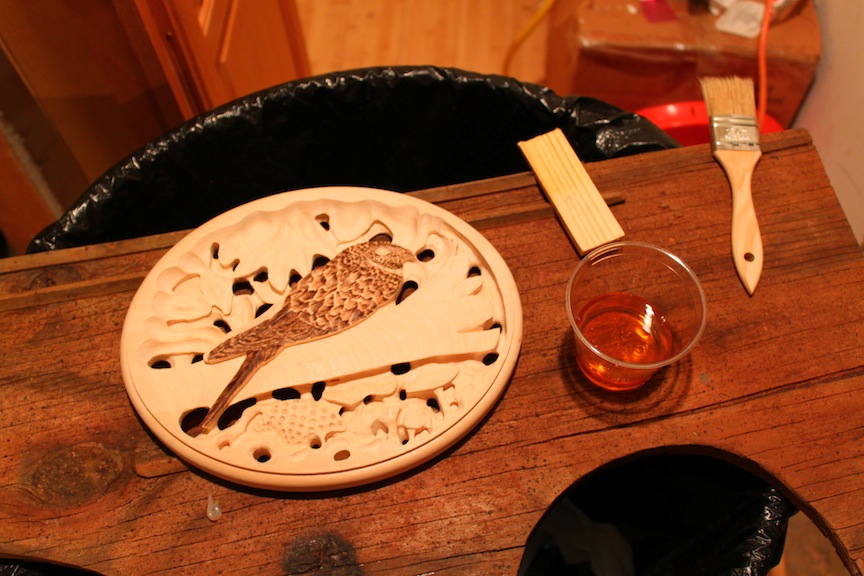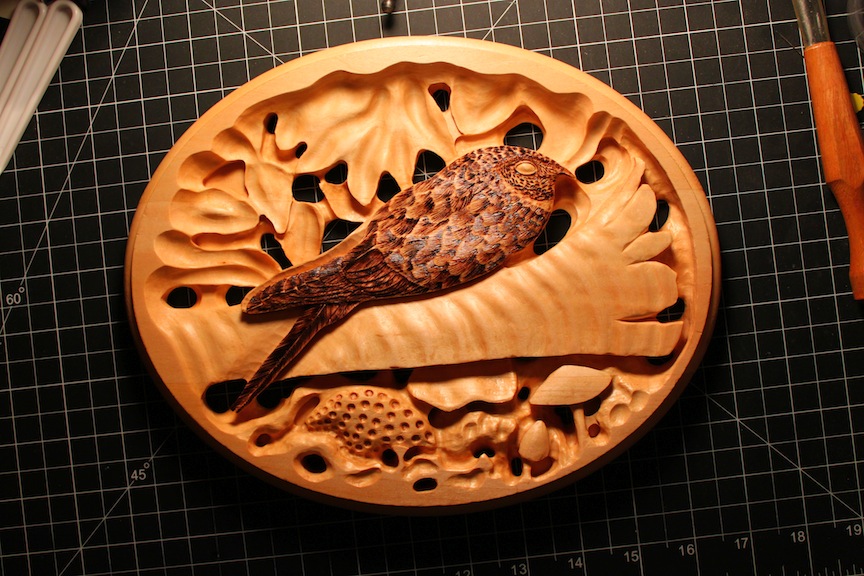 Here is the completed piece after 21 coats of finish and polishing in between each coat. This piece was started in mid September 2013 and completed January 24 2014. It ships the 25th, and so begins the next project.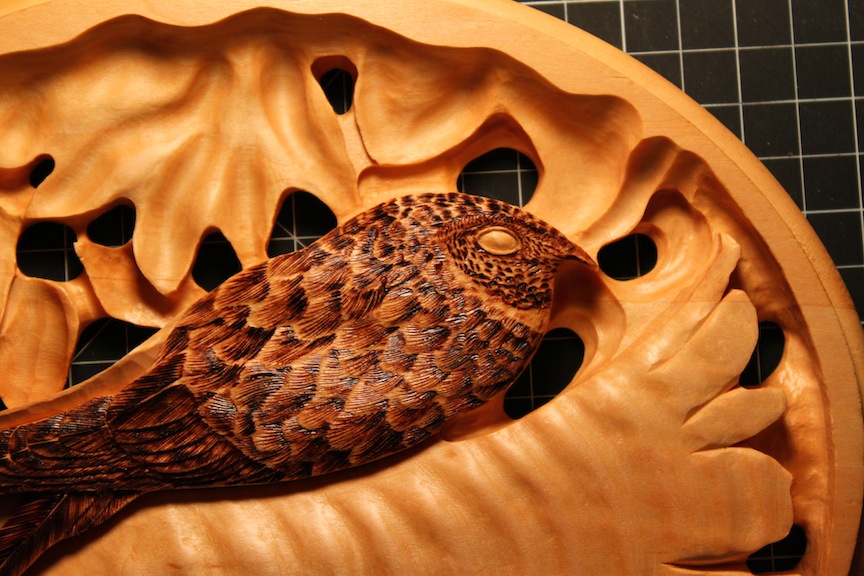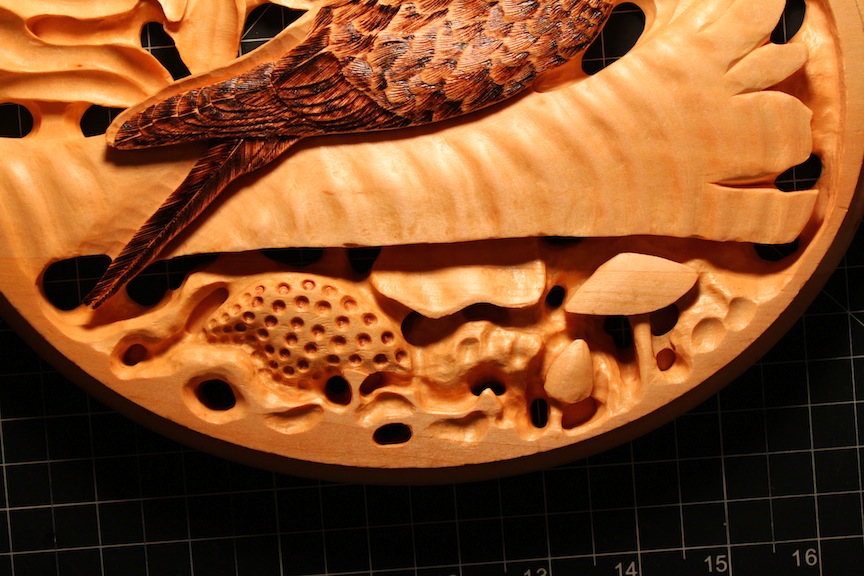 Adam Krehbiel
'Jarvis Lizard Exhaust Diffuser Project'
2014
Steel, Stainless Steel
This sculpture was developed to be a diffuser tip for the tailpipe of a truck. It is extremely light and very strong. It is patterned after an Australian Horned Lizard, though I made some modification to the proportions and added less spikes as this on an automobile.
To see a Progression Album of this piece Click Here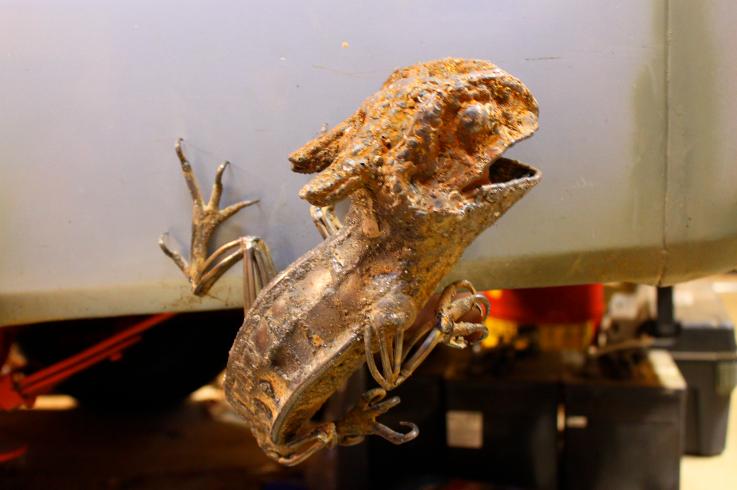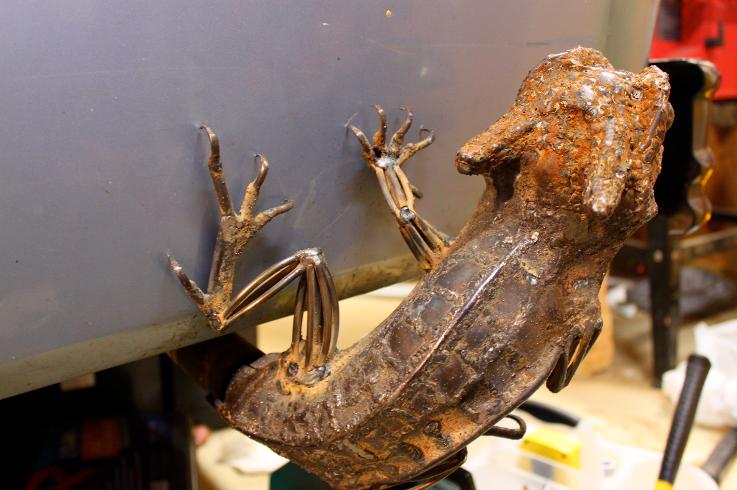 Here Jarvis is installed on the Fender Wall and connected to the Tailpipe. There is a bracket that holds him on to the pipe to keep him from theft.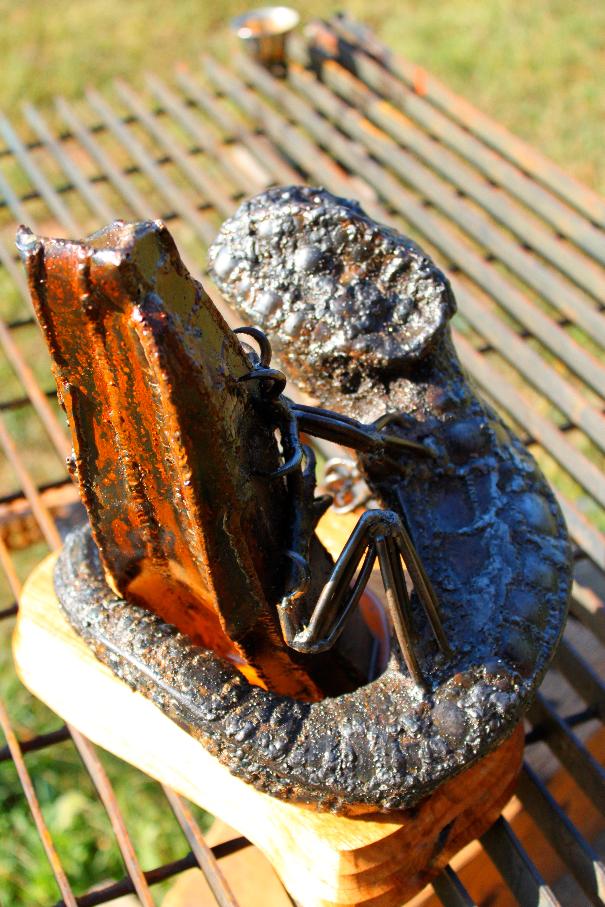 Adam Krehbiel
'Uluru Lizard Project'
2014
Steel, Red Oak, Resin
This piece is constructed via the use of welded 22ga. and 16ga. Steel Sheet. The piece took around 3 months to complete and utilizes a great deal of scrap trash. The base of the piece is lightning struck Red Oak cut from my property on the Fluvanna line in Virginia U.S.A. The piece is affixed to the base by a moat of amber resin called a floating fastner.
To see an Album of this piece Click Here
Adam Krehbiel
'Scroll Bustier (Ultra Light)'
2014
Steel, Bronze, Nylon, Brass, Leather
These pieces are always a blast to create. We first begin by creating a Kevlar and Resin form to build upon. We use Kevlar because it can withstand the heat of welding and brazing. Next the primary lines in steel are drawn, and slowly filled with the scrolls themselves. Primary meeting points are welded, that is the base of each scroll. Whilst any overlapping point are wrapped in a very thin wire and then brazed with Bronze. That is what those little wire towers are to the left. Those towers are brazed and then ground smooth as not to injure anyone.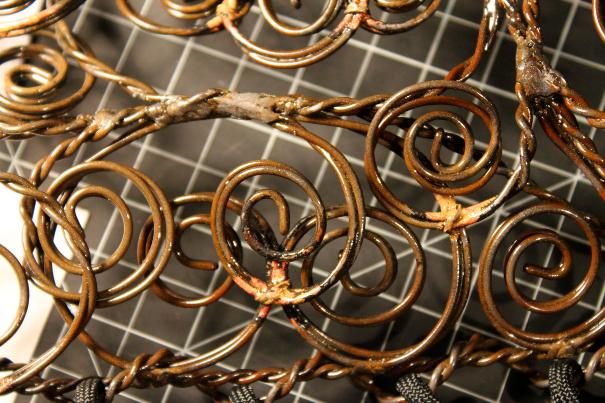 Here we see completed weld joints, and wrapped brazed joints. This creates an exceptionally strong yet flexible sheet. All welded and brazed joints are heavily conditioned to be extremely smooth as not to snag delicate clothing. It has taken me about 19 years of welding to be able to weld such small material (1/16" wire) and not melt right through. The welding process utilized here is GTAW also known as TIG welding.
In my shop I had purchased an old bath tub to rinse greasy parts and for chemical soaks such as this one. Here we see a pickle bath within agitation. During the brazing process the piece becomes coated in flux so the Brazing rod can safely flow into place. The solution here is hot water (150F) mixed with Sodium Bisulfate and a number of other ingredients. This serves to strip the flux, and with the assistance of copper and nickel salts, also blackens the steel.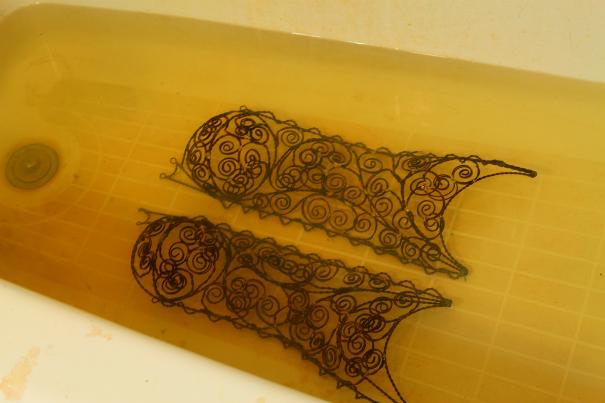 Inside of about an hour the solution turns very rusty as the salts work their magic.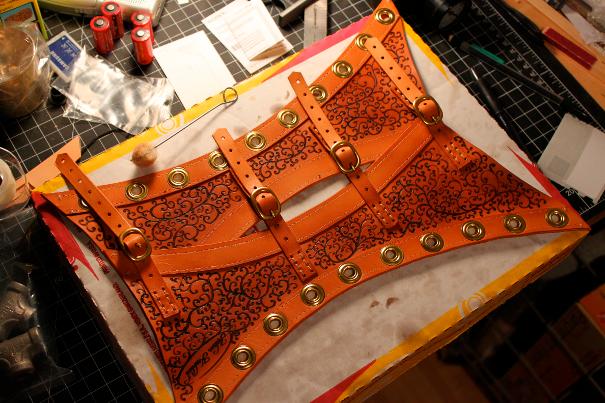 Here is the back lace sail, freshly tanned and oiled.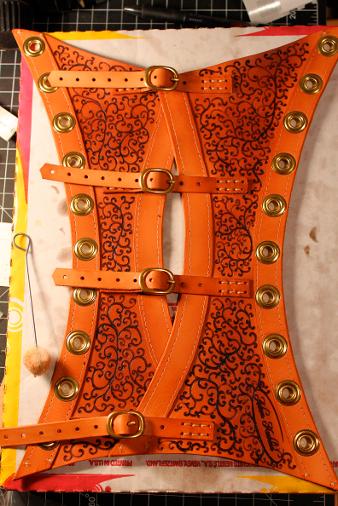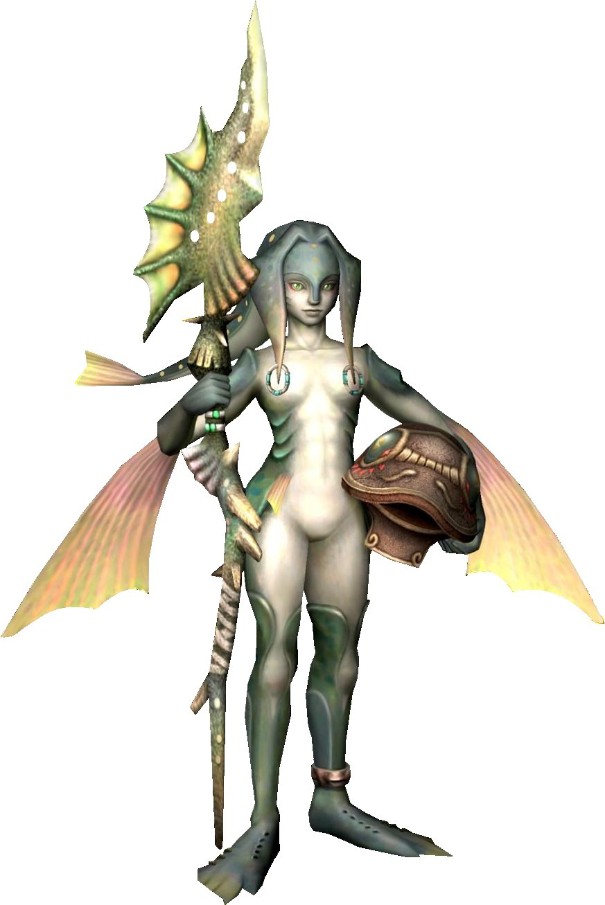 Adam Krehbiel
'Zora Suit'
2012
Silicone, Lycra Spandex, EPDM, Wood, Poly Amide,
Steel, Rare earth, Fiberglass, Cotton, Aluminum, P.E.T.
Here is a collection of photographs from a recent fabrication commission entitled 'The Zora Project'.
The subject above is a Zora, a reoccurring race in the Legends of Zelda Series. This suit was a collaboration between Adam Krehbiel of Veraseri Designs, and Eliza Strauss of Prelude Designs. The photos below are some shots of the making of the suit, and some of its elements.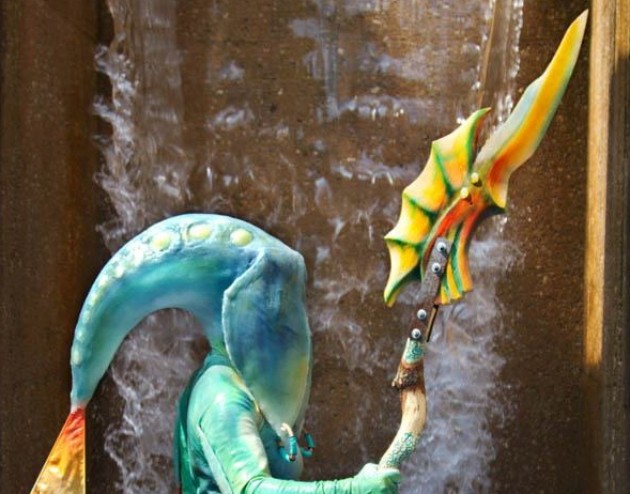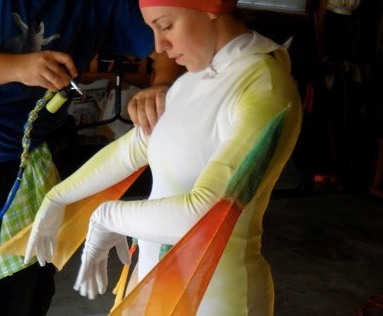 Many layers of colour are airbrushed and start very slowly upon the core suit designed and fabricated by Eliza Strauss, and outside accessories fabricated by Adam Krehbiel are temporarily applied for colour matching.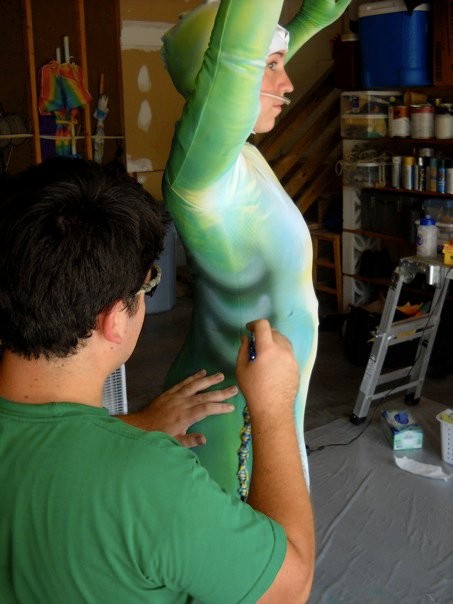 As the generalized base colour is applied, more features are added. Features such as gills and distinctive markings are applied after all base colours have been completed. The tube next to the wearer's mouth is a special line that runs all the way down her back with holes directionally cut running the full length of the tube. Cooled compressed air is delivered to keep the wearer's core cool. Through manufacture, the wearer is protected by a chemical proof layer suit to protect from paint, dye, and the other coatings to follow.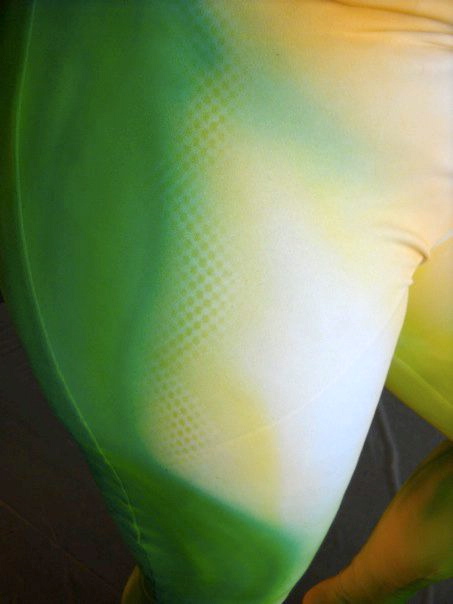 After completion of all dye and paint applications, a special encapsulated glow medium created by Veraseri Designs is added to the surface of the fabric so the suit may glow as does the character.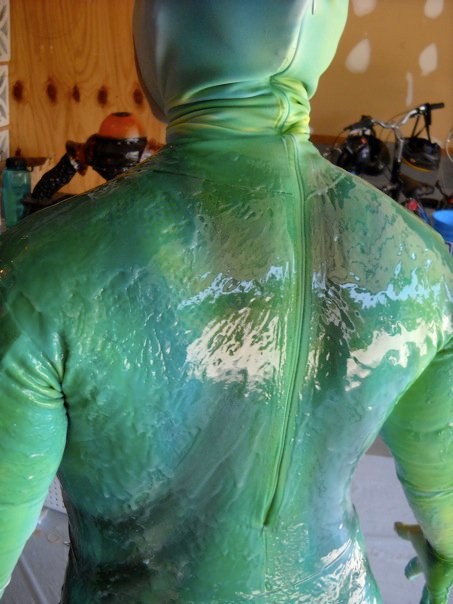 After the completed application of glow medium a layer of special silicone is applied to seal and waterproof the suit, as well as completing the effect. The glow medium is designed to shine very brightly through the silicone, and glow for more than 24 hours after a full charge in sunlight.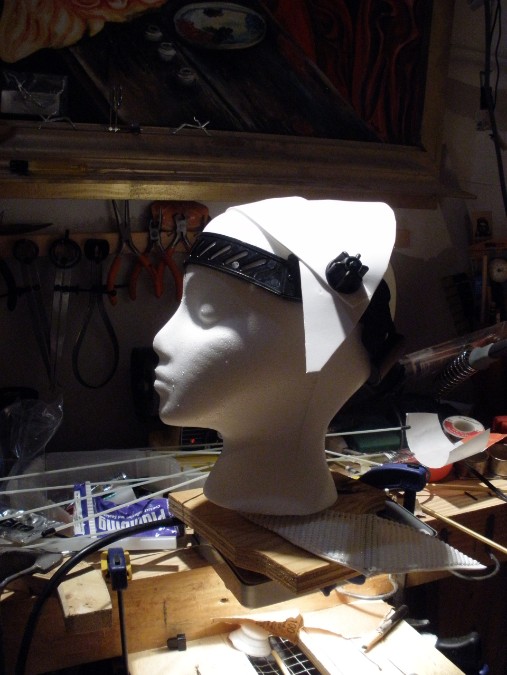 We begin by measuring the head of the wearer subject and state an exacting size foam head to begin the build. In this project we had an adjustable head strap made to suit the smaller size of the wearer, and closed cell foam was applied upon the top as underlayment for the succeeding layers.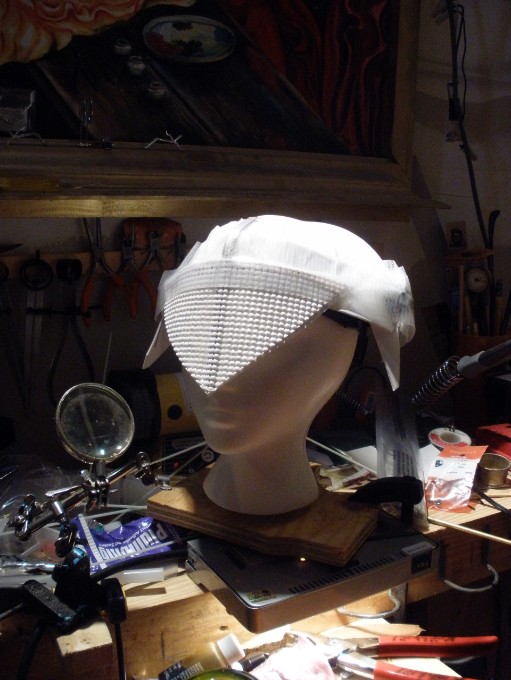 A laminated foam sheet was made with an adjustable aluminum band created to fit the contour of the wearers nose line. The sheet shall be cut at a later time to match the profile of the eyes.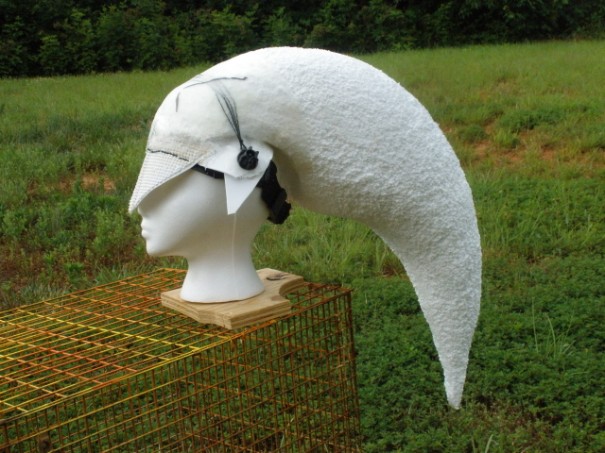 EPS Foam was then carved and bonded to the surface and lashed using fiberglass fabric.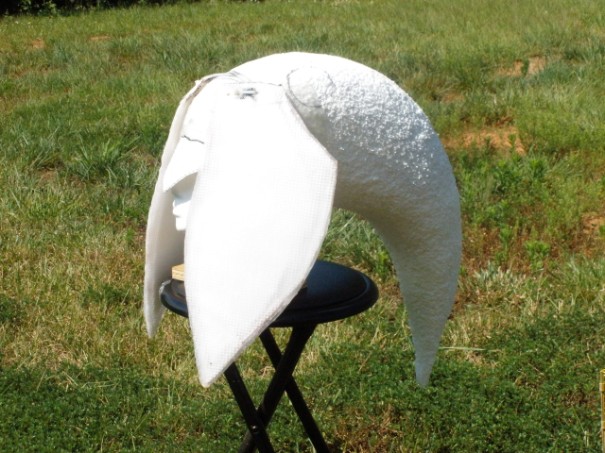 The ears were made from laminated foam sheet and cast in Silicone to give them realistic fin like movement as the wearer moves.
They were then fastened to the fiberglass.
Silicone was applied to the surface to give a realistic and durable surface to accept colourization. The eye profile was also cut, and the tail fin was made with the use of fiberglass spars and a synthetic fabric. The fabric was then airbrushed with a series of dyes, and then wrapped to protect it from the other coating processes. Round cast bulbs were added on both sides and run all the way down to the tail, they contain a very powerful glow medium which glows for many hours.
Colour was then applied by use of an airbrush by means of highly atomized paint. The earrings shall be added at a later time.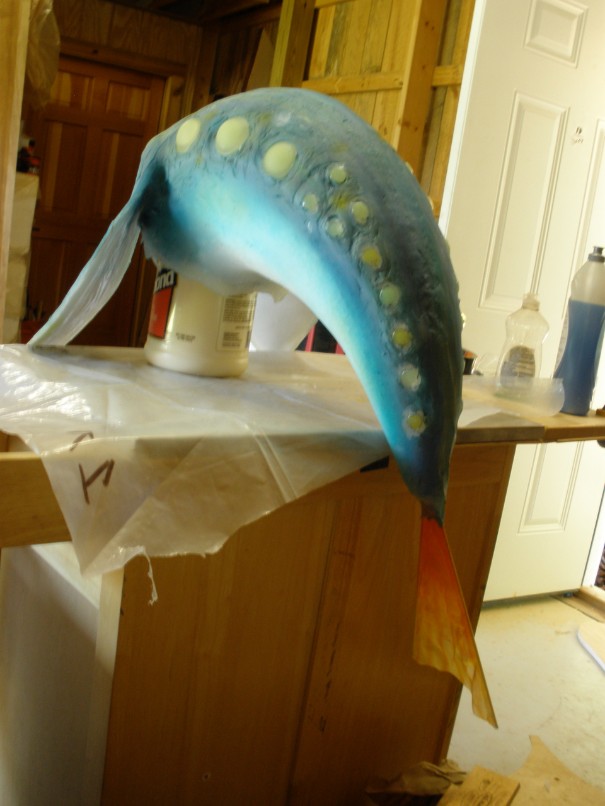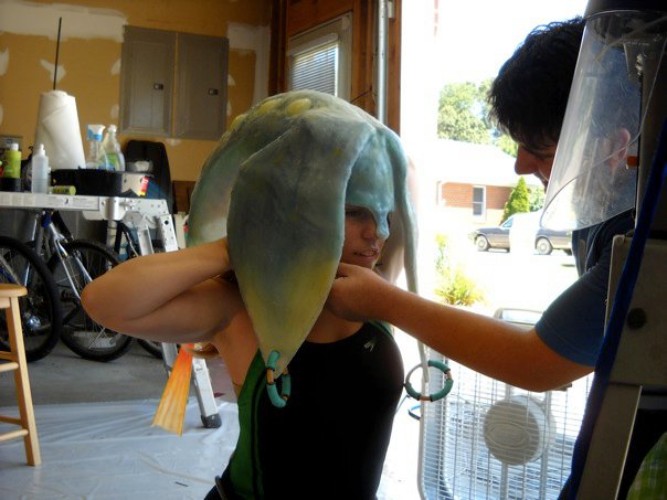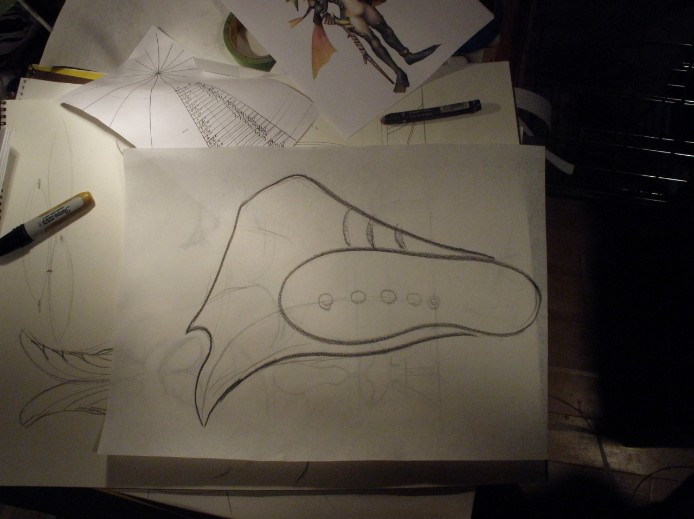 For the shoes, measurements were taken and a pattern was made. Next, base shoes were made for the comfort of the wearer.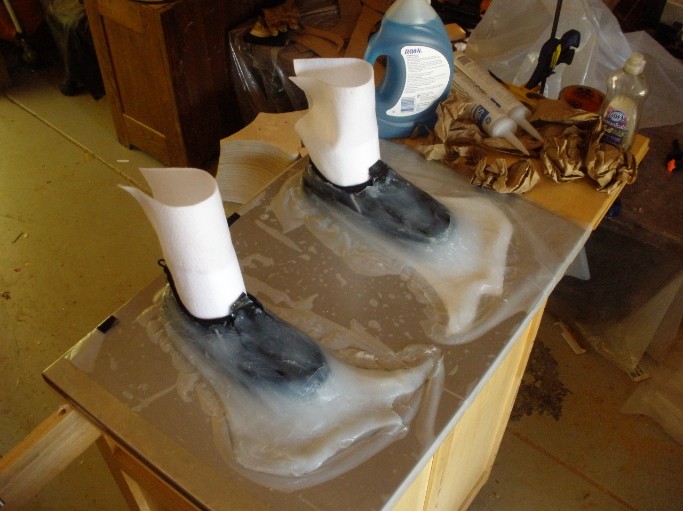 A silicone body was made and then bonded to the base shoe. Successive layers of filler and silicone shall make up the final shape.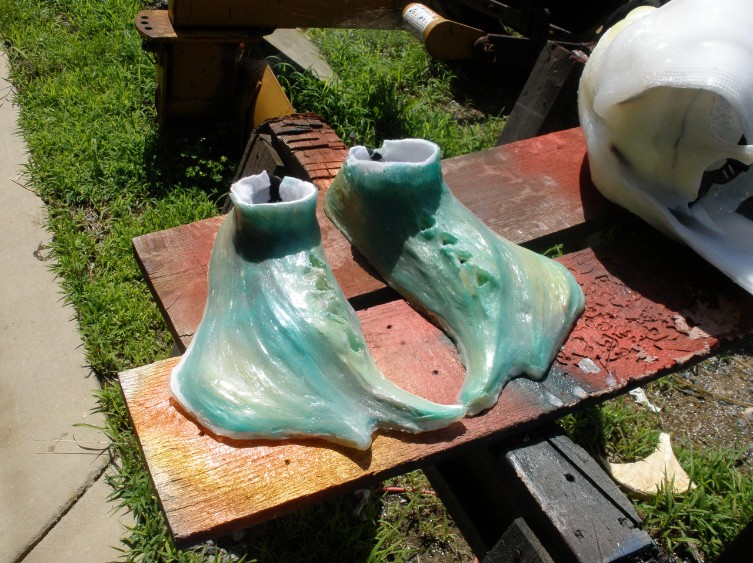 The colourant was applied again via airbrush, and vents were added for both character accuracy and comfort of the wearer.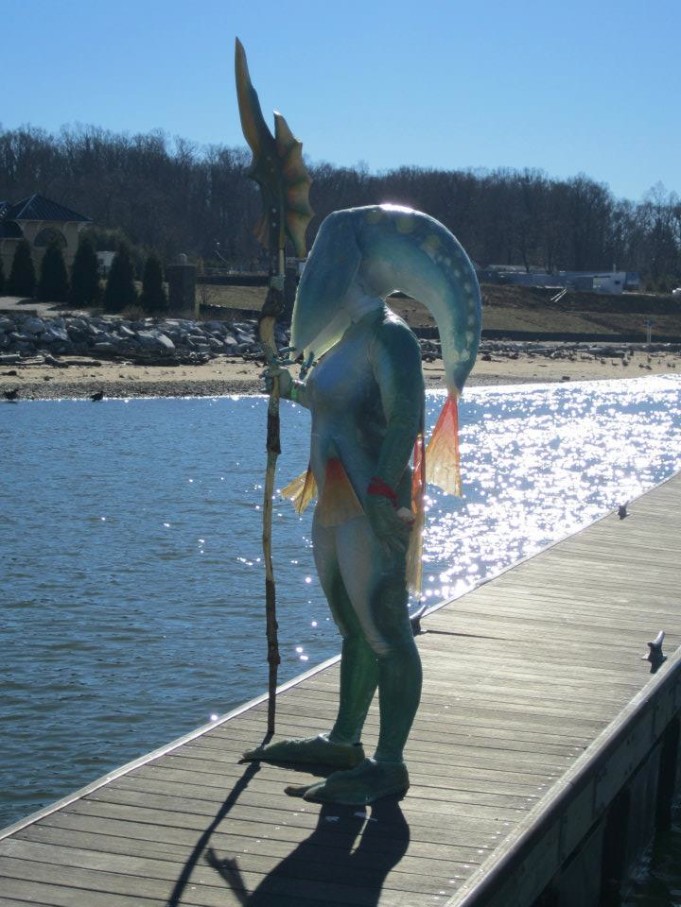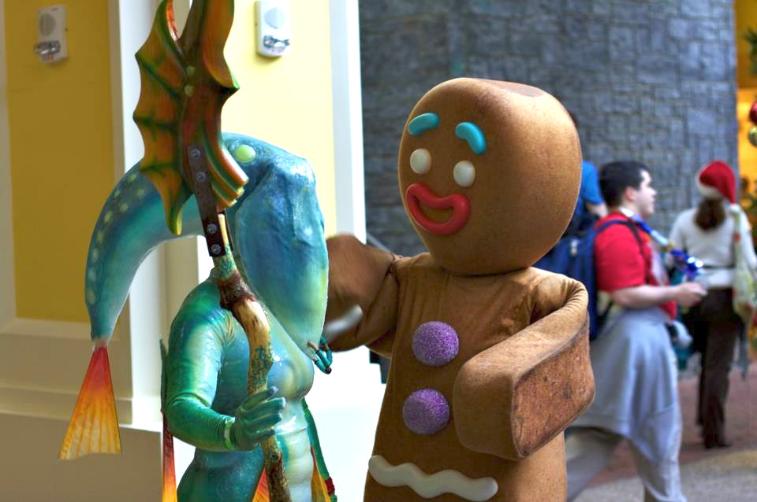 Awards:
Winner of the MAGFest 2012: Best Overall Costume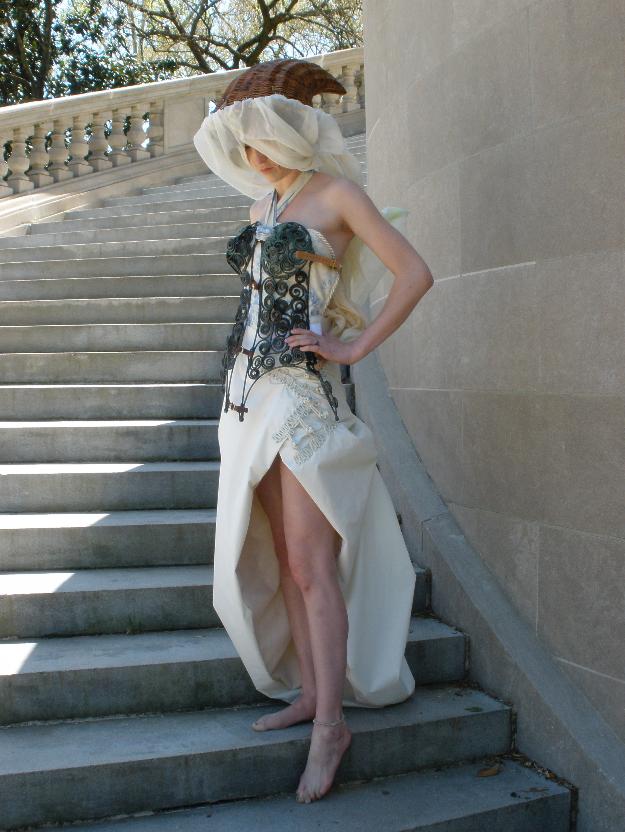 Adam Krehbiel
'Queen of the Fireflies'
2010
Cotton, Steel, Aluminum, Kevlar, Nylon, Wicker, Leather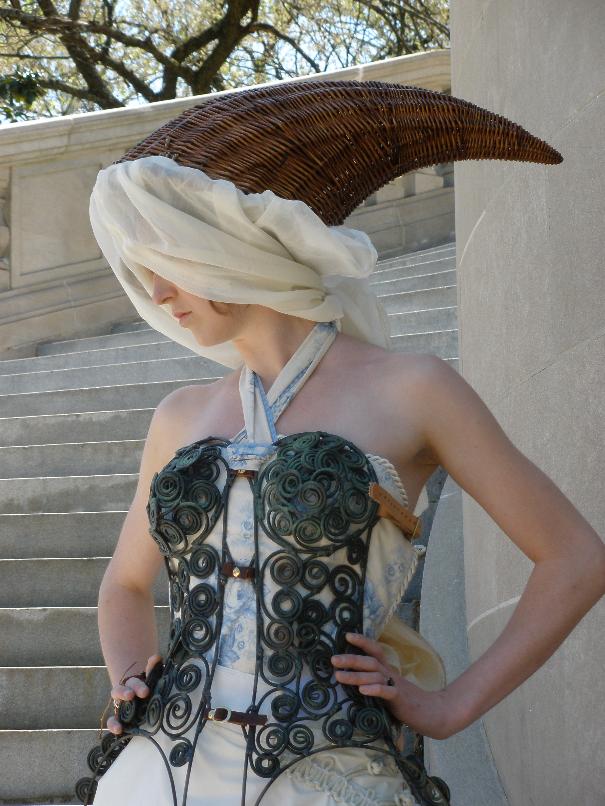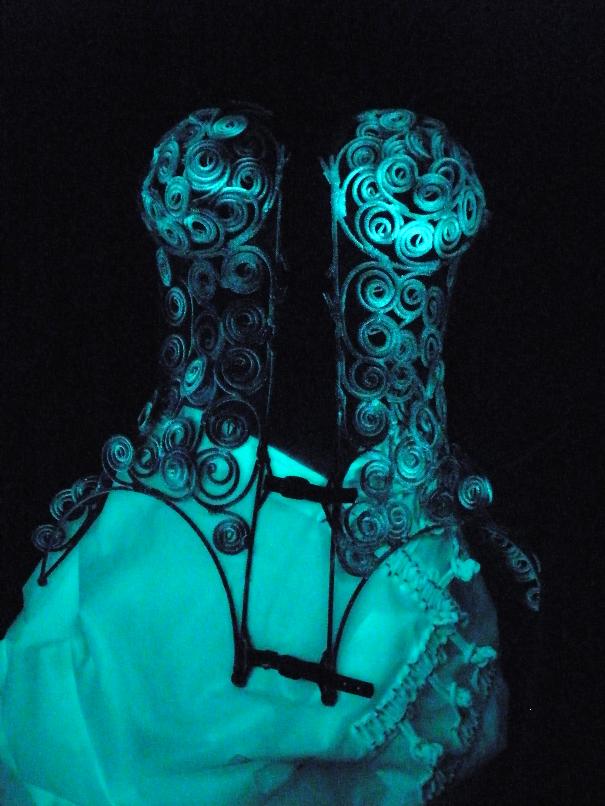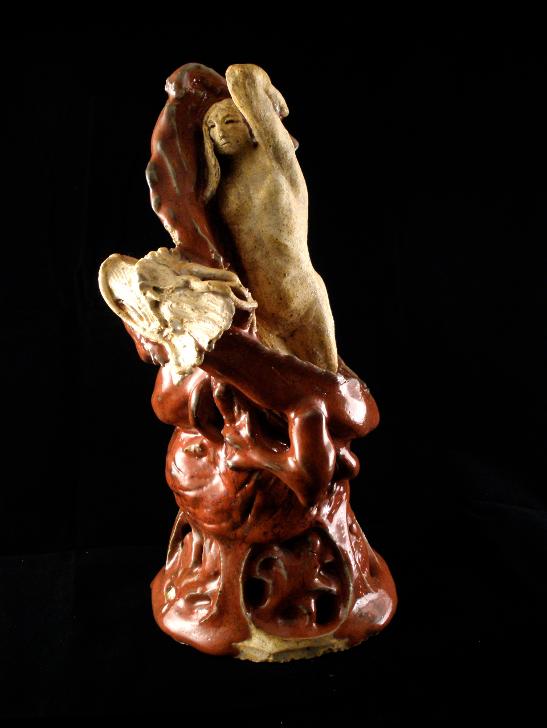 Adam Krehbiel
'Dragon House'
11"x 6.5"x 6.5"
Earthenware, Glaze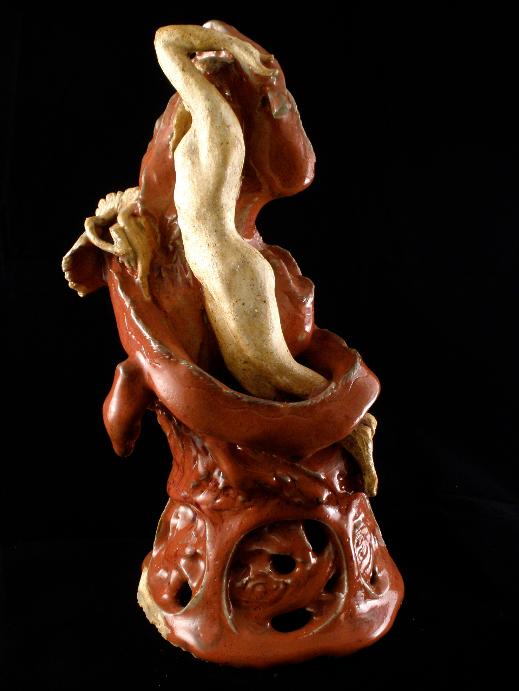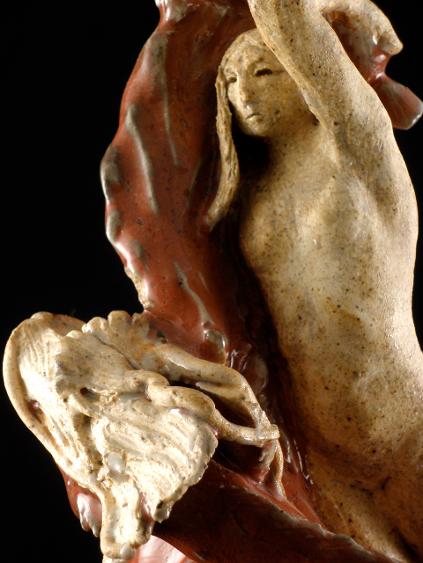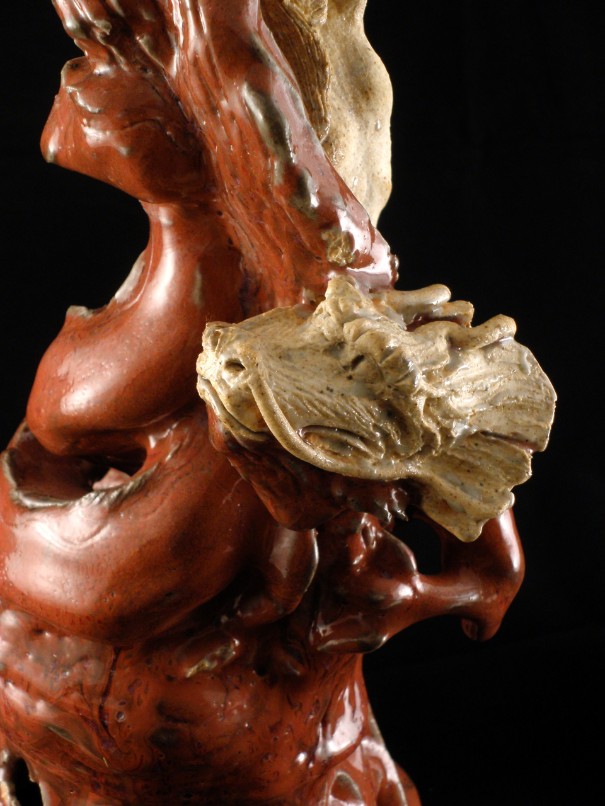 © 1996-2017 Veraseri Designs. All rights reserved
Unauthorized Reproduction Prohibited